05/04/19
This Argentine football fan took his grandfather's skull to along to a title parade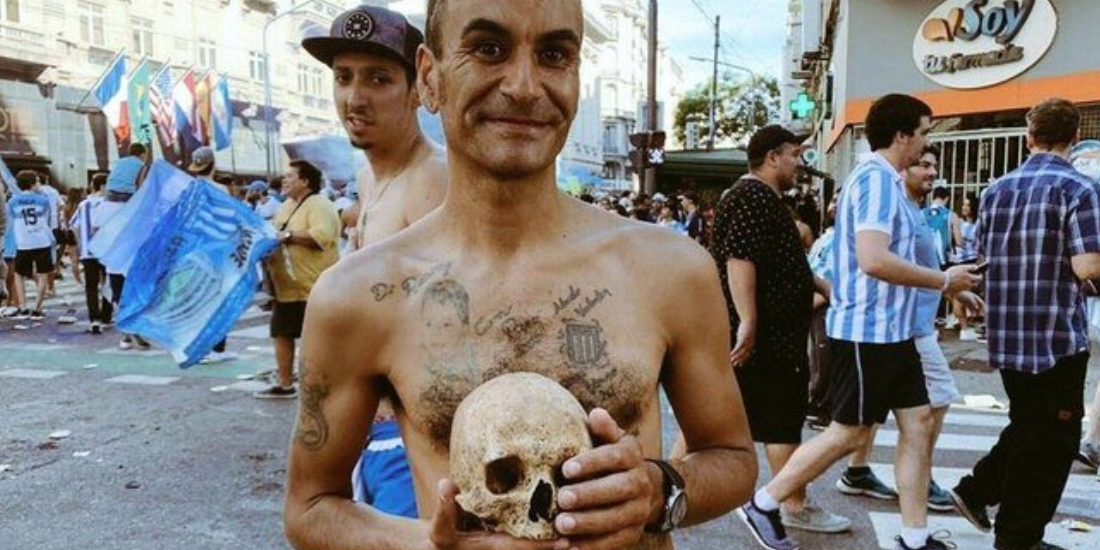 Racing just won the Primera División for the first time since 2014, which was in turn their first win since 2001. Three titles in 18 years then - not exactly prolific - but neither are their fans having to endure Liverpool-length droughts.

Or like remember when Leicester won the league? You could sort of imagine a scenario where someone might like to take their dead family members along to those celebrations, right? If we've got a once-in-a-lifetime miracle in our midst then all bets are off.

This particular bony old-timer, though; he'll have absolutely seen it all before. There really was no need to be raiding his tomb or whatever.

So we're gonna have to conclude that your man in the Tweets is hella in to skulls and shit.
Only in Argentina... Racing fan Gabriel Aranda brings the skull of his grandfather along so he "can celebrate Racing winning the league too" 🇦🇷https://t.co/UzMNJesvHS pic.twitter.com/HRaII7f9aK

— Paul Reidy (@paulreidy67) April 1, 2019
LOCURA TOTAL | Racing salió campeón de la Superliga Argentina y este hincha ¡llevó el cráneo de su abuelo a los festejos! 😳 @marca https://t.co/jihlhJT8Vu pic.twitter.com/d4rRnZ9Wj8

— MARCA Claro Argentina (@MARCAClaroARG) April 1, 2019
Those crazy South Americans, eh?
Add a comment
Recommended Articles