10/01/18
Now Asamoah Gyan's got himself a dodgy statue too!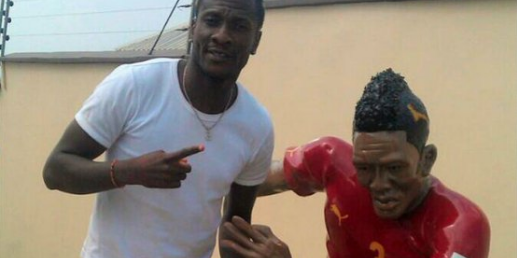 Africa, it would appear, seems to be quite the emerging market for this sort of gear. Less than a week after the unveiling of 'Michael Essien', the same Ghanian sculptor has had a go at immortalising former Sunderland striker Asamoah Gyan.

I'm sure we'll all be make our judgements on its artistic merit, but the man himself seems happy enough with it and perhaps that's all that matters.
The sculptor who did Michael Essiens statue, has designed one for Ghana skipper Asamoah Gyan.

He says it is to honour him as Ghana's all-tim topscorer pic.twitter.com/63JGhdbMGD

— Saddick Adams (@SaddickAdams) January 7, 2018
Who do you reckon's next in line? The Ayew brothers might be nice (on the assumption that the being Ghanian bit is a deal-breaker) but I'm easy really, just so long as he keeps them coming.
Add a comment
Recommended Articles